The OAG runs mountain and quad biking adventure certifications at the Shai Hills Reserve for licensees who wish to lead terrain biking as well as quad biking adventures in Ghana. The MQB 301-305 Training Courses span the Biking Explorer to Frontier Biking Guide programmes, and are designed for candidates who are at the front of terrain biking adventure leadership.
The training syllabus for the Mountain & Quad Biking Adventure Certification Courses include: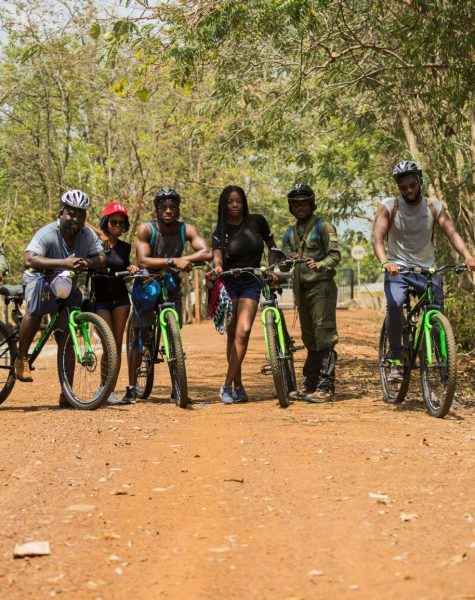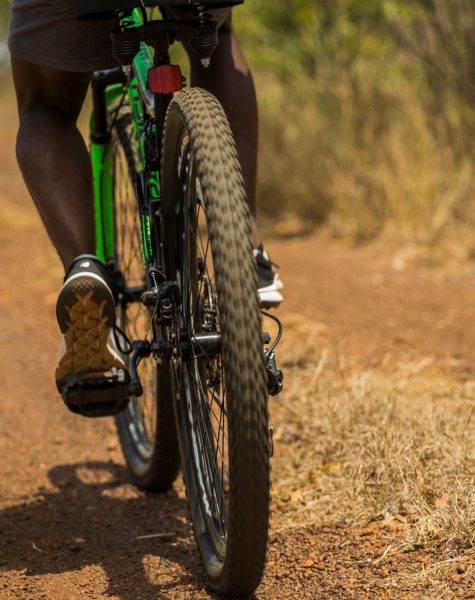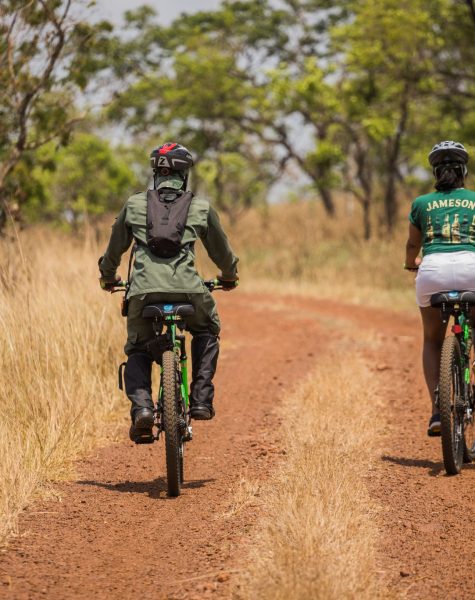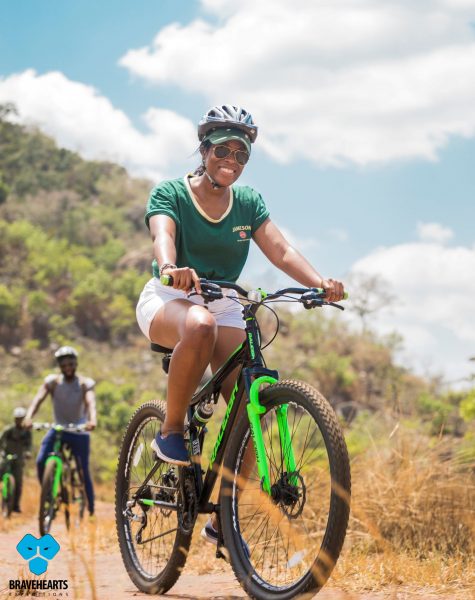 Course Essentials
Costs
Assessment
Course Context & Limitations
The Introductory Guide course is designed to train experienced riders to safely lead small group rides from beginners to low intermediate riders on green and blue, single track terrains in a wilderness environment, no more than 1 drive hour away from emergency medical care
Course Duration:
3 days + pre-course reading and worksheet (1-2hrs), totaling 7 hours each day, including assessment.
Course Essentials and Outline
Group safety guiding
Trail-guiding and management
Riding skills and technique.
Guiding skills training, safety rules, class management and terrain communication.
Mechanical preparedness
Terrain change and safe riding pace.
Consistent positioning & balancing skills through a wide range of movement.
Efficient cadence and straight chain line.
Braking and non-skidding on loose terrain, using both brakes.
Climbing and descending on technical, single track (intermediate) terrain.
Banked and flat corners on various terrain surfaces.
Maintaining chosen line in technical (rooty/rocky/uneven) terrain.
Front & rear wheel lifts – standing
Seated front wheel lift, using a pedal stroke (very basic wheelie)
Switchbacks – slow, tight turns
Basic mechanics: adjusting a bike to fit, suspension sag and rebound set-up, flat tires, broken chains, replacing brake pads, adjusting headsets, correct cleaning and maintenance.
The Introduction to Mountain Bike Instruction Course costs 1,000-GHC and covers transportation to the training locations, food, water, training fees and use of group gear and equipment.
Candidates are expected to pack the following in order to survive the training:
A 40-litre backpack
A 10-litre day pack
1 good outdoor tent
A pair of good hiking boots
Outdoor walking sandals
A cap or hat
3 water bottles
3 sets of outdoor clothing
1 sleeping bag or thick blanket
1 sleeping mat
Wash kit – small towel, sponge and soap
1 bowl for meals
A can of insect repellent
A box of matchsticks
Rain coat
1 machete
Hiking poles
A compass
Expected Outcomes
Complete MQB301 Worksheet (available upon registration).
Confidently ride at trail speed on intermediate terrain, including green, blue and "light" black trails.
At the end of the course, participants must have a minimum of 36 days of mountain biking experience and 40 hours of Wilderness First Aid Certification, or equivalent.
PLEASE NOTE: Successful candidates will be eligible to work as Guides only, and will NOT be certified to teach mountain-biking. Guiding students and leading them on safe, organized rides involves a very different set of skills and risks, than teaching people how to ride better.
Assessment Criteria:
In order for candidates to successfully gain the OAG IMBG Guide certification, they must pass a basic riding and guiding evaluation during the course. Candidates must be comfortable ride all day long on intermediate single track, terrain, while guiding beginner clients safely on green and blue trails.
Guiding Assessment: Candidates must plan and execute safe student introductions, equipment checks, warm ups, skills assessment and guiding a ride, on green and blue trails. A clear understanding of the Guiding Protocols (safety rules, class management and terrain communication), must be shown during the practice guiding sessions. The specific guiding skills are outlined in more detail in the IMBG Course Outline.
Riding Competencies: Candidates must show consistent, comfortable and correct riding technique on green and blue technical trails, to effectively demonstrate the Six Skills of Mountain Biking. The specific riding competencies are outlined in more detail in the Course Manual.
Written Assessment: Candidates must read the MQB301 Course Manual and complete the Worksheet, prior to the course commencing. The reading and worksheet takes approximately 1 – 2hrs and acts as the written portion of candidates' assessment.
2 Pilopia Close, Dzogbefeme-Avatime, Ghana

020-348-1401
View our Mountain & Quad Biking Adventure Certification Handbook